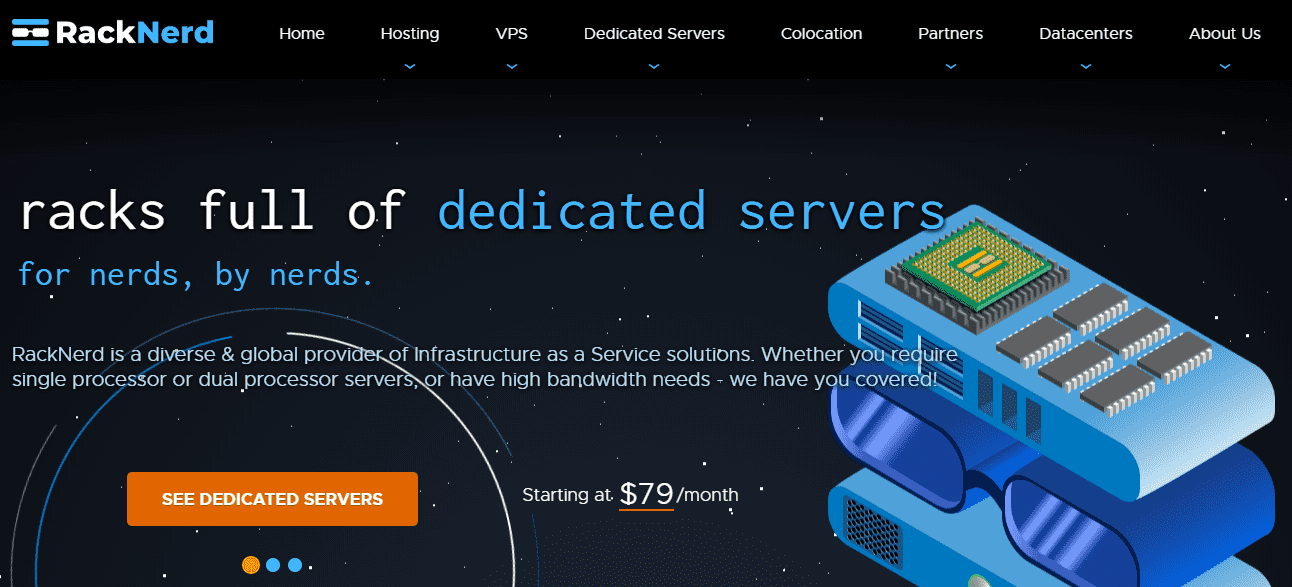 RackNerd provides KVM VPS in Los Angeles, San Jose, Dallas, Atlanta, Ashburn, Seattle, Chicago and New Jersey. Powered by KVM virtualization, you can expect dedicated server like features for just a fraction of the cost.
Time: November 1 - November 18 (or until sold out)
Dc-02 machine room is SSD cached hard disk. Except dc-02, other computer rooms are pure SSD hard disk. Please pay attention when selecting dc-02.
Special Plans
1GB KVM VPS Special (11.11 Promo)
1x vCPU Core
17 GB PURE SSD RAID-10 Storage
1 GB RAM
3000GB Monthly Premium Bandwidth
1Gbps Public Network Port
LOCATION: San Jose, Seattle, Dallas, Chicago, New Jersey, New York, Atlanta, or Ashburn
$9.98/annual or $19.46/Biennial
Order Link
2GB KVM VPS Special (11.11 Promo)
2x vCPU Cores
35 GB PURE SSD RAID-10 Storage
2 GB RAM
5000GB Monthly Premium Bandwidth
1Gbps Public Network Port
LOCATION: San Jose, Seattle, Dallas, Chicago, New Jersey, New York, Atlanta, or Ashburn
$15.58/annual or $30.66/Biennial
Order Link
3GB KVM VPS Special (11.11 Promo)
3x vCPU Cores
55 GB SSD Cached RAID-10 Storage
3 GB RAM
8000GB Monthly Premium Bandwidth
1Gbps Public Network PortLOCATION: Los Angeles DC-02, San Jose, Seattle, Dallas, Chicago, New Jersey, New York, Atlanta, or Ashburn
$27.98/annual or $55.46/Biennial
Order Link
4GB KVM VPS Special (11.11 Promo)
3x vCPU Cores
80 GB SSD Cached RAID-10 Storage
4 GB RAM
8000GB Monthly Premium Bandwidth
1Gbps Public Network PortLOCATION: Los Angeles DC-02, San Jose, Seattle, Dallas, Chicago, New Jersey, New York, Atlanta, or Ashburn
$35.98/annual or $71.46/Biennial
Order Link
Windows 3GB VPS (11.11 Promo)
2x AMD Ryzen CPU Cores (equivalent to 4 Intel cores)
35 GB NVMe SSD Storage
3 GB DDR4 RAM
3000GB Monthly Premium Bandwidth
1Gbps Public Network Port
LOCATION Los Angeles DC-02
$78.88/annual or $157.26/Biennial
Order Link
Test Data
San Jose, Ca: 192.210.207.88
Chicago, IL: 198.23.228.15
Dallas, Texas: 198.23.249.100
Atlanta: 107.173.164.160
New Jersey: 192.3.165.30
New York: 192.3.81.8
Ashburn: 107.173.166.10
Seattle: 192.3.253.2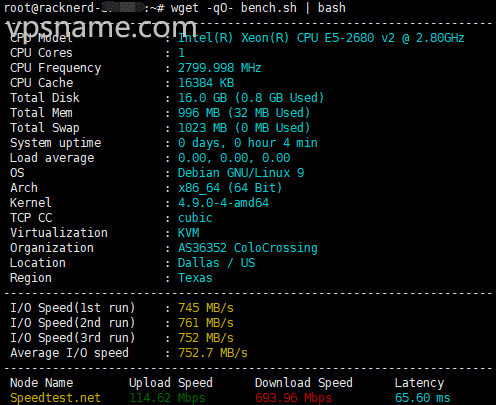 Test Date: 2020.10.29
[email protected]:~# curl -sL yabs.sh | bash -s -- -i4
# ## ## ## ## ## ## ## ## ## ## ## ## ## ## ## ## ## #
#              Yet-Another-Bench-Script              #
#                     v2020-09-21                    #
# https://github.com/masonr/yet-another-bench-script #
# ## ## ## ## ## ## ## ## ## ## ## ## ## ## ## ## ## #

Thu Oct 29 02:03:17 EDT 2020

Basic System Information:
---------------------------------
Processor  : Intel(R) Xeon(R) CPU E5-2680 v2 @ 2.80GHz
CPU cores  : 1 @ 2799.998 MHz
AES-NI     : ✔ Enabled
VM-x/AMD-V : ❌ Disabled
RAM        : 996M
Swap       : 1.0G
Disk       : 16G

fio Disk Speed Tests (Mixed R/W 50/50):
---------------------------------
Block Size | 4k            (IOPS) | 64k           (IOPS)
  ------   | ---            ----  | ----           ---- 
Read       | 73.88 MB/s   (18.4k) | 1.13 GB/s    (17.6k)
Write      | 74.07 MB/s   (18.5k) | 1.13 GB/s    (17.7k)
Total      | 147.95 MB/s  (36.9k) | 2.27 GB/s    (35.4k)
           |                      |                     
Block Size | 512k          (IOPS) | 1m            (IOPS)
  ------   | ---            ----  | ----           ---- 
Read       | 1.57 GB/s     (3.0k) | 1.47 GB/s     (1.4k)
Write      | 1.65 GB/s     (3.2k) | 1.57 GB/s     (1.5k)
Total      | 3.22 GB/s     (6.3k) | 3.04 GB/s     (2.9k)

Geekbench 4 Benchmark Test:
---------------------------------
Test            | Value                         
Single Core     | 2636                          
Multi Core      | 2526                          
Full Test       | https://browser.geekbench.com/v4/cpu/15843076

Payment Methods
PayPal
Alipay
Credit Card
Cryptocurrency (BTC, LTC, ETH, ZEC)
UnionPay
Boleto
India UPI
India Netbanking
iDEAL
Wire Transfer